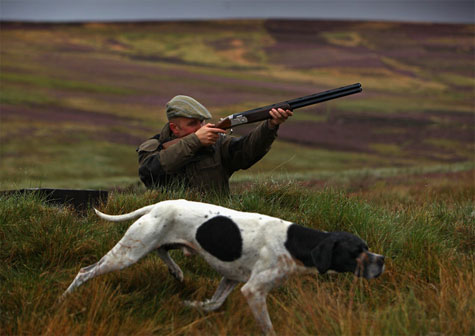 As the Glorious 12th kicked off this month, what better reason to talk about the Red Grouse (Lagopus lagopus scotica)? A little about hunting Grouse, where you would go in Scotland to find the famour moorland and a mouthwatering recipe from our Head Chef Ross!
The Glorious 12th marks the start of the shooting season for Red Grouse in the UK and many hunters head out for the busiest day of the hunting season! Although it is called the glorious 12th the season doesn't always start on the 12th August! UK law dictates that the start of the season cannot occur on a Sunday, and in that case the start of the season is delayed until the 13th.
Grouse shooting is renowned for being one of the most challenging sports especially when compared to the slower, purpose-reared pheasants. A season last from 12th August to 30th November. Grouse fly fast and low, at speeds of up to 80mph, changing direction at the very last moment. There are two ways of hunting grouse;
1. Driven Grouse
This is more formal with up to 10 guns shooting from butts and hoping for a 50-60 brace day (a brace is 2 birds) in some of the most spectacular scenery. Usually very little walking is required.
2. Walked up Grouse
Hoping for a bag of 10 – 15 brace, 4 to 8 guns walk in line and flush the birds themselves as they walk along. Gun dogs will also work the line fairly close to the guns flushing out any birds sitting very tight. Travelling light is key on a walked up day!

The Red Grouse
The red grouse is a medium-sized game bird. It has a plump body, a short tail and a lightly hook-tipped bill. It is reddish-brown, with its legs and feet covered in pale feathers. They live as part of a flock on the ground and eats fruit. Birds breed in the UK in the uplands of the north and west and are resident all year round, travelling very little in their lives. The population is declining, perhaps linked to diseases and the loss of heather moorland.
The Red Grouse Season is a heavily discussed topic, as the red grouse population is declining, however many argue that without the money spent on the hunting activities the moorland, the habitat would struggle as well. Teams of grouse shooters spend on average of £10,000 to £15,000 for a day's driven grouse shooting on Scotland's estates.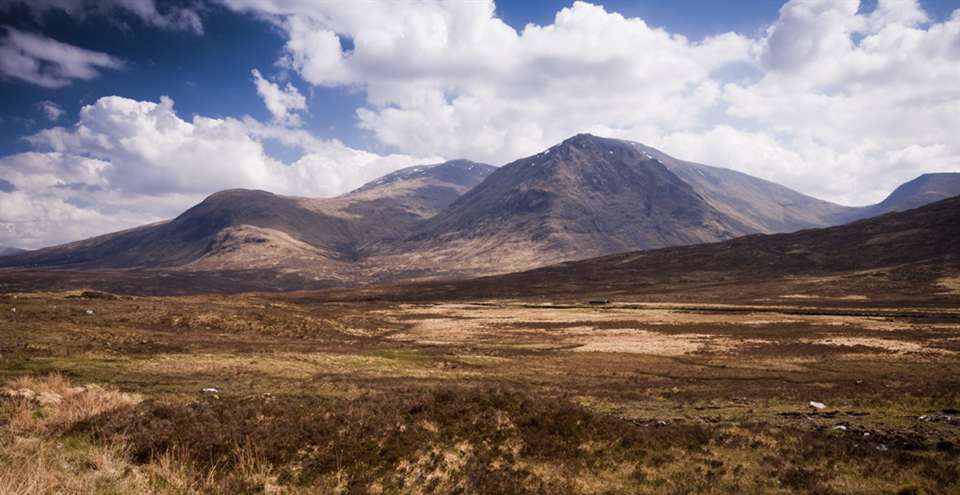 The Habitat
Moorland nowadays generally means uncultivated hill land. Rannoch Moor is Scotland's boggy moorland to the west of Loch Rannoch, lying at an average height of 1000 feet / 305 metres above sea level, the moor has many lochans, peat bogs, streams and rocky outcrops. Despite a distinctly damp and peaty appearance, the floor of the moor is made of granite with a upper peat layer reaching depths of up to 20 feet in some places, it is is one of the last remaining wildernesses in Europe.
Rannoch Moor Hill Walks & Cycling
The best way to get a feel for this unique area is to take a train journey on the famous West Highland Railway as the railway line crosses the moorland for 23 miles and rises to over 1,300 ft. There is plenty of challenging and exhilarating walks in the remote hills and cycling routes.
High mountains are also a feature of the moor although these are best left to experienced hill walkers with excellent navigation skills. Lower level paths from the Rannoch Station area include a 9 mile linear tramp through to Corrour and Loch Ossian and also a 7 mile circuit of Loch Ossain. All walkers should be aware of the character of the moor - beautiful but very challenging in bad weather or in winter.

There is also a visitor centre at Rannoch Moor which showcases the beauty and interest of the moor - its evolution, early historical developments, flora and fauna and the importance of the railway to the area.
Ross Stovold's Grouse
Ross has had a busy start at Eriska this summer, however he does have time to share a secret or two with you when it comes to cooking Grouse.
"Grouse is one of my favourite birds and I look forward to the season as much as any. Personally I prefer an older bird as it has a more intense flavour, it is almost like liver with an iron like taste.
Grouse can be paired with strong flavours and is incredibly versatile. At home I roast it simply. To prepare your bird remove the legs by pulling them forwards where they meet the breasts. You will hear a snap, cut through where you have snapped them. The legs yield very little meat, I use them to make sauce.
First slowly 9be patient) caramelise shallots then cut into large chunks, with a small amount of oil (it is important not to cut the chunks too small as they need a reasonable surface area to caramelise not burn!!!)
While the shallotts are cooking, roast the legs in a hot overn to achieve a good golden colour, to the pan add 200ml of red wine vinegar, the best you can afford and reduce until it's sticky.
Now add the roasted legs, 100g of smoked bacon. 750ml chicken stock, a small bunch of thymeand reduce by half. Strain through a fine sieve and season to taste.
You are now left with what is called the crown. Heat a tablespoon of rapeseed oil and a knob of butter in a pan. Colour the skin of the grouse and place in a pre-heated oven on 190C for 4 minutes, takeout of the oven and rest for at least 5 minutes with the breast face down.
Serve it with creamy mashed potato, infused with yeast for a difference - The yeast and potato combination works really well! You need:
120g milk
40g of butter
Yeast
500g mashed potato (Maris Piper)
Poach the peeled potato in salted water, drain when tender, and pass through your preferred mashing equipment. Warm the milk and butter until it melts and add some fresh or dried yeast to your taste.
Place your mashed potatoes in a pan and beating your milk mixture until you have a creamy potato mixture. If you are looking to impress, you can pass it again to make it ultra smooth.
It is important to do all of this while the potatoes and milk are warm. it they are cold, you have to work them too much and they become sticky.
Saute some kale in butter, warm your sauce, carve the breasts from your crown and season the exposed meat. Gently warm your yeast mash and serve with lots of the smokey sauce!!!"
For a taste of Ross' menu, why not book a table in our Restaurant? Or even better; stay with us the weekend starting 15th November to take part in our Wine Weekend? Ross will be working side by side with Mark O'Bryan to combine the best from the French vineyards and cellars with the best form the gardens and hills of Scotland!